In January, 2002, the medical team from Gehlen Catholic Mission Honduras, examined a young boy, Francisco Torres, from Agua Caliente. The treating doctors suspected major heart problems. Without proper care, they feared for his life. A combined effort of Mission Honduras LeMars, Gehlen Catholic Mission Honduras, and Paul Tschan from the Mayo Clinic, Rochester, MN, brought Francisco to the Mayo Clinic in the spring of 2002. Francisco was accompanied to the United States by Tacha Alvarado and stayed in Rochester, MN, during Francisco's surgery and care. Francisco was diagnosed at the Mayo Clinic with Tetralogy of Fallot and the treating doctors gave him approximately one month to live.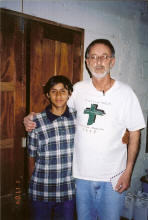 | | |
| --- | --- |
| Francisco with Francis Seivert, shortly after surgery | Francisco with Richard Seivert, director of MHL |
His surgery was performed in April, 2002, by Dr. Dharani. The surgery was a great success; Francisco returned to Honduras a healthy young boy. He has been examined during each January medical mission team and found to be in excellent health. Much thanks to Paul Tschan, the Board of Governors of the Mayo Clinic, Dr. Dharani, Iowa Senators Tom Harkin and Charles Grassley, and Iowa Congressman Tom Latham. Many thanks as well to Sr. Barb Zimmer and Sr. Val Knoche for all their efforts in getting Francisco to the United States.

| | |
| --- | --- |
| | |
| Cristobal, Richard Seivert, and a healthy Francisco, March, 2005 | Francisco Torres, April, 2006 |